Faculty of Science 
Ray Jayawardhana
Dean, Faculty of Science
rayjay@yorku.ca
Sylvie Morin
Associate Dean, Research & Graduate Education
sciadres@yorku.ca
Doriano D'Angelo
Facilities Manager, Faculty of Science & Engineering
doriano@yorku.ca
Faculty of Health
Paul McDonald
Dean, Faculty of Health
healthdn@yorku.ca
Mazyar Fallah
Associate Dean, Research & Innovation
hhadri@yorku.ca
Tom Hodgson
Manager, Physical Resources,
Health & Safety, Research Support
thodgson@yorku.ca
Campus Services and Business Operations

Richard Francki
Assistant Vice-President
rfrancki@yorku.ca 
Ron Ogata
Project Director
rogata@yorku.ca 
Adriano Morassutti
Assistant Project Manager
adrianom@yorku.ca 
Lassonde School of Engineering
Richard Wildes
Associate Professor and Chair,
Department of Electrical Engineering
wildes@cse.yorku.ca
Ed Secnik
Manager, Health, Safety, Security and Facilities
edward.secnik@lassonde.yorku.ca
Project Updates
FARQUHARSON SCIENCE AND HEALTH RENEWAL PROJECT
On May 1, 2017 the Construction Manager will be erecting hoarding inside and outside of the Farquharson Life Sciences Building. The shaded areas on the First, Second and Third floor will not be accessible to the public. The passenger elevator is in the shaded area and therefore will not be available for public use. The Basement washroom will remain operational during the project and the Lumbers washrooms will be available to the Farquharson occupants.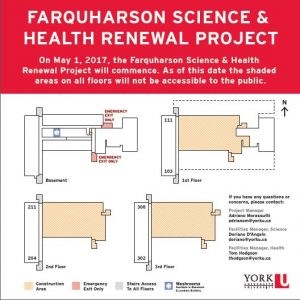 During the first week in May Gillam Group will commence work on their site trailer compound on Vanier Green. At this point the Construction Manager will have control of the Farquharson loading dock and delivery access will have to be coordinated with them.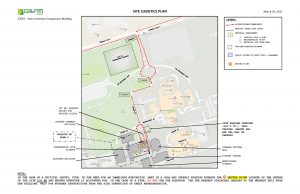 Contact:           Adriano Morassutti, Assistant Project Manager, CSBO, adrianom@yorku.ca
Ron Ogata, Project Director, CSBO, rogata@yorku.ca
Air Barrier Remediation
As part of the Science Building Renewal Project we will be repairing the air barrier issue around the windows in the Chemistry Building.  Stephenson Engineering will be in on Friday, March 17th to perform a preliminary investigation. Small test openings will be cut into the wall and window sills may be removed at the location of the wall opening.  Once testing is complete all patching and repairs will be scheduled.
Fume Hood Controls
.
.
.